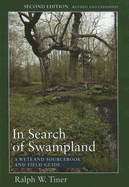 Wetlands, often considered wastelands in the past, were officially recognized just in the last fifty years through the establishment of various governmental laws and regulations to protect them for their ecological importance. The federal government gradually determined that there was a need to identify them in order to regulate them. With some wetlands only seasonal, identification through vegetation alone was insufficient for establishing guidelines and regulations.
In this second edition, ecologist and educator Ralph Tiner has revised and expanded his popular university textbook on the ecology of the wetlands of eastern North America. Written as a primer for students and others, the book serves as an introduction to wetland ecology and a guide to its soils, plants, and wildlife. Among the new materials in this revision is a chapter on wetland classification and assessment, as well as information on poisonous plants and worrisome insects. The author also discusses the management practices around wetlands, making it a particularly useful resource to readers concerned with the functioning of this natural resource.
The text is well illustrated with photographs, drawings, maps, charts, and tables; reference materials includes a list of wetlands to explore and a plan of action for groups interested in saving this natural resource.
— Marilyn K. Alaimo, garden writer and volunteer, Chicago Botanic Garden