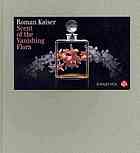 Publisher:
Verlag Helvetica Chimica Acta
Cloth, 483 pp., $155.00
Focusing on endangered plants, this technical volume directs attention to the destruction of some of the most beautiful and fragrant endangered plants in the world. Scientists have developed the means to capture their odor, so that the scent of vanishing flora will remain, possibly reminding mankind of their destructive forces on vanishing beauty. The text covers the methods and chemical formulas to capture the fragrances of such flora around the world.
— Marilyn K. Alaimo, garden writer and volunteer, Chicago Botanic Garden