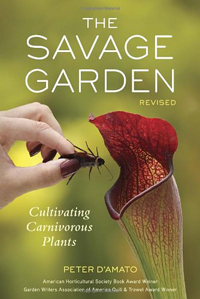 Revised edition.
Paper, 374 pp., $25.99.

An award-winning author on the subject and recognized authority on carnivorous plants, Peter D'Amato has been growing carnivorous plants for nearly four decades. His popular plant nursery contains the world's largest collection of carnivorous plants on display in the world. This work reflects his vast knowledge, covering identification of carnivorous plants, as well as where and how to grow them. The revisions to this edition include changes in taxonomy, adjustments to soil recipes based on experimentation in his nursery, and newly discovered plants that have been brought into cultivation. Appendices contain subjects of interest to both experienced and novice gardeners. The colorful photographs that illustrate the text are especially useful thanks to their clarity. D'Amato writes in an informative, appealing style, sharing his experiences in discovering and growing these unusual and popular plants.
- Marilyn K. Alaimo, garden writer and volunteer, Chicago Botanic Garden.