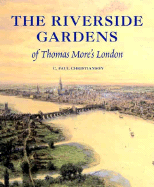 hardcover, 232 p., $45.00
Well-researched, annotated, and illustrated with period engravings, paintings, and maps, this book on early Tudor gardens covers a range of topics relating to the history of English gardening during the transitional period between the medieval and the modern. The text focuses on eight large gardens along the Thames River. These 16th-century properties have various connections with Thomas More and serve as examples of such grounds under different types of ownership — civic, cleric, wealthy citizen, and royal — during the era.
The author provides information about each garden's owner, size, and design, as well as uncommon information about the backgrounds of these sites. He uncovered documentation on the many individuals who created and maintained them — the staff of gardeners, laborers, nurserymen, weeders, and craftsmen who worked on each project. Despite changes in ownership due to political upheaval, these were the people who ultimately saw that the gardens were preserved over time. This scholarly work by C. Paul Christianson is remarkable for its extensive detail on the historical status of horticulture, garden implements, garden art, and garden entertainment.
— Marilyn K. Alaimo, garden writer and volunteer, Chicago Botanic Garden