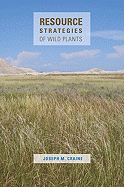 Publisher:
Princeton University Press
paper, 331 pp., $45.00
Terrestrial plants, currently numbering around a quarter million, are remarkable for their ability to continue on the planet over millions of years, despite environmental challenges and only limited resources. Biologist Joseph Craine directs the reader's attention to the survival strategies of plants. This scholarly review provides the reader with a better understanding of the connections ofs plants with ecosystems and evolution. The author traces the history of our understanding of the significance of plants, discusses the various methods used by plants to overcome competition for nutrients and water, as well as protection from herbivores, and presents summaries of recent significant research.
— Marilyn K. Alaimo, garden writer and volunteer, Chicago Botanic Garden