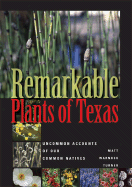 Publisher:
University of Texas Press
cloth, 336 pp., $29.95
Naturalist Matt Turner examines the natural and cultural history of native Texas plants in a fascinating narrative that gives meaning to the botanical bounty of the state. The author looks at their archeological and historical significance; their culinary, material, and medicinal usage; and their cultural connections with people. Of the approximately 6,000 species that can be found in the state, he focuses on 65 entries, covering more than 80 native plant species that he considers "major players in the state's flora." Organized in three general categories (trees, shrubs, and other plants), each entry includes a discussion of botanical and common names, a description of its form and character, and its native habitat and distribution. A color photograph of a significant characteristic accompanies each profile. Warnock then traces the importance of the species to people and wildlife, often citing little known facts both novice and experienced naturalists will find intriguing.
— Marilyn K. Alaimo, garden writer and volunteer, Chicago Botanic Garden