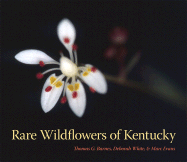 Publisher:
University Press of Kentucky
cloth, 190 pp., $39.95
This engaging review of the rare native flora of Kentucky begins with an overall discussion of the causes behind a plant becoming "rare" and the need for preservation of these species. The authors describe the natural communities in which these wildflowers survive and the ecological conditions, such as geology and hydrology, that affect them, providing stability or causing changes in habitats. They define "rarity" in terms of federal and state lists of endangered species, then illustrate individual plants according to their local environmental conditions. Each plant illustration is accompanied by a brief description. The superb photographs throughout the work are plant portraits of the highest quality. The concluding material has a listing of rare, extinct, and historic plants, as well as plants in jeopardy, all in Kentucky.
— Marilyn K. Alaimo, garden writer and volunteer, Chicago Botanic Garden