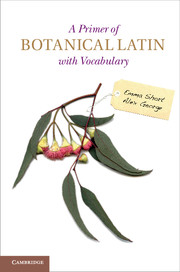 Publisher:
Cambridge University Press
Paper, 312 pp., $39.99

Alex George is a botanist and professor at Murdoch University in Perth, and former editor of Flora of Australia. Emma Short worked on the Index Kewensis database and checked Latin for Australian Systematic Botany for 18 years. They have written a book that provides accessible and concise information for systematic botanists in translating a description or diagnosis into Latin or English. According to the authors, this primer simplifies the more extensive Botanical Latin published in 1966 by William Stearn. The authors ask, on translating from Latin into English, "when you think you have completed it, read your translation and try to picture the plant. Does the description make sense?" This would appear to be the goal of such a primer: to condense some very complex information to make it more useful for modern botanists.
- Joan Richards, volunteer, Chicago Botanic Garden.