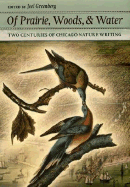 Publisher:
University of Chicago Press
paper, 402 pp., $25.00
In an enlightening anthology about the natural history of the Chicago region, Joel Greenberg has chosen excerpts from the writings of explorers, travelers, and naturalists, recounting their experiences with the environment before urbanization and industry made an indelible mark on the land. The text is divided into five sections: landscape or scenery, botany, land animals, water, and individual reactions to the environment. The material, written before 1960, was selected for the quality of the writing, with the prerequisite that the material be set within the regional boundaries. Although the names of some authors may be familiar, such as Jens Jensen and May Watts, others are little known, so Greenberg includes a brief profile of individual authors (when available).  This inspiring literature is a delightful way to learn about Chicago's history and natural environment.
— Marilyn K. Alaimo, garden writer and volunteer, Chicago Botanic Garden