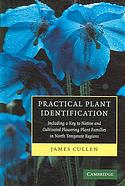 Publisher:
Cambridge University Press
paper, 357 pp., $29.99
This fully revised, updated edition of James Cullen's popular guide is vital to the correct identification of currently recognized families of flowering plants in temperate regions. As the author notes in his introduction, there are many systems of botanical nomenclature that may be confusing to the general user. This edition is based on the classification used at the Royal Botanic Gardens, Kew. The introductory materials include a review of plant structure and terminology, as well as a guide to using the key to identify families. This is a very practical, handy-sized book for gardeners and students of horticulture and botany.
— Marilyn K. Alaimo, garden writer and volunteer, Chicago Botanic Garden