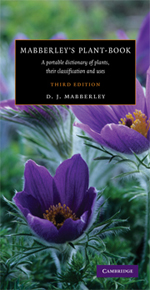 Publisher:
Cambridge University Press
decorated boards, 1,021 pp., $90.00
Recommended as a classic botanical reference for anyone studying or interested in plants, this third edition, 20 percent longer than the previous and with 1,620 more entries, provides taxonomic details as well as vernacular names for known plants. Recognizing the increase of controversy among scientists in recent years as molecular analyses challenge existing plant nomenclatures, the author explains the significance of changes and reasons for the apparent disturbance in traditional evaluation of plant genealogy. He also points out the need for authoritative works for the student, journalist, and professional plantsman, noting that such literature and dictionaries serve to correct the errors often found on the internet and in other sources. Readers may find his occasional descriptions of plant history and usage fascinating: for example, coriander, found in King Tutankhamun's tomb (1325 BC) and utilized to flavor gin, confectionery, bread, curry powder, and in scents and soap, is now the most heavily used herb in the world.
— Marilyn K. Alaimo, garden writer and volunteer, Chicago Botanic Garden