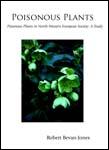 Publisher:
Oxbow Books (distributed in the U.S. by David Brown Book Company, Oakville, Conn.)
paper, 200 pp., $50.00
Students of ecology, gardeners, and those interested in botany will find this a fascinating, yet scholarly study of poisonous plants in the social history of Britain and Western Europe. In the first section of the book, Robert Bevan-Jones presents some astounding facts about the use of powerful drugs as medicines, in chemical warfare, and other nefarious activities. These applications were obtained from poisonous plants by European populations for thousands of years. He tells of the development of botanical writings, the growth of the science of botany, and the emergence of modern pharmaceutical medicine. In the second part, native and introduced poisonous plants of Britain are profiled, and in the last section, there is a focus on mushrooms, toadstools, and other fungi. The concluding supplementary materials include a listing of uncommon poisonous plants; research tools; poison plant display gardens; a glossary; and, general and select bibliographic references.
— Marilyn K. Alaimo, garden writer and volunteer, Chicago Botanic Garden