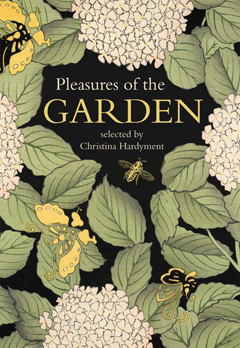 Decorated boards, 224 pp., $30.00.

With bumble bees hovering over hydrangeas, the cover speaks of elegant times in the garden, but not too seriously, as the bees are only hovering and wouldn't dare buzz. The bright yellow end pages invite you to cheerfully skim this anthology, a thoughtful collection of text and art.

It is not collected chronologically, which could be a bore, but by subject matter. The first subject is "Lovers of gardens and lovers in gardens" covering Jane Austen, Gertrude Jekyll,  Joseph Addison, and Pliny the Younger. The next section, "Grand design", includes excerpts from Homer, William Robinson, and Tobias Smollett. The third section, "Practical gardening", includes text by Rudyard Kipling, Erasmus Darwin, Thomas Jefferson, D.H. Lawrence, and Andrew Marvell, among others.

This book is ideally suited to browsing after a long afternoon weeding in a garden. It may inspire you to delve into the works of some authors long forgotten or half remembered. - Adele Kleine, volunteer, Chicago Botanic Garden.