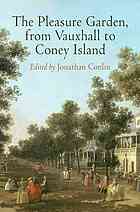 Publisher:
University of Pennsylvania Press
Cloth, 316 pp., $69.95.

Pleasure gardens, designed landscapes for public entertainment, originated in the seventeenth century in Britain. Significant in cultural history, they signaled a change in the role of gardens from exclusive places for the upper class to entertainment grounds for the rising middle class. British historian Jonathan Conlin has brought together a collection of essays that survey, in nine chapters, the elements that made these entertainment centers so popular. Beginning with Vauxhall in London, the first to set the trend for public pleasure grounds, these landscapes had much to offer a public seeking relief from structured lifestyles, including paintings, musical performances, spas, carnival features, and much more. This trend for public pleasure gardens crossed the ocean to the United States in the early nineteenth century, eventually evolving into commercial amusement parks. —Marilyn K. Alaimo, garden writer and volunteer, Chicago Botanic Garden.