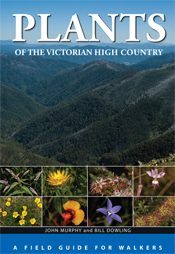 paper, 133 pp., $33.00
This little book, small enough to fit in your backpack or coat pocket, is a nature guide to the plants of Victoria's high country. It is excellent, except for its lack of a map and a scale to accompany the images of plants . To many, these plants and their flowers will be new. The text with each color photograph describes the plant's scientific and common names as will its specific zone, flowering time, and a brief summary of major anatomical features. This information should help you recognize plants in the field.
The Australian Plants Society Victoria supported the publication of this book, which will be of great aid to its members in the region. For others outside of Australia, this guide will provide an illustrated introduction to the flora of Australian Alps, and perhaps a lure to entice you to see some of these flowers in person.
— Adele Kleine, garden writer and volunteer, Chicago Botanic Garden