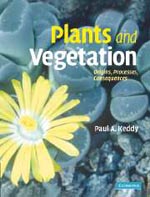 Publisher:
Cambridge University Press
decorated boards, 683 pp., $75.00
Written for the upper-level undergraduate, this textbook is a study of plant ecology and evolution, beginning with the role of plants in the creation of the biosphere. The author traces the evolutionary patterns of communities of plants. His remarks cover the factors that negatively affect plant life, such as stress, competition, disturbance, and herbivory, as well as the more positive effects from interactions between plant groups. In recognition of the enormous percentage of plants facing possible extinction, the text concludes with a discussion of plant conservation. Heavily illustrated and referenced, the text is notable for its detail that ultimately encourages thoughtful reflection.
— Marilyn K. Alaimo, garden writer and volunteer, Chicago Botanic Garden