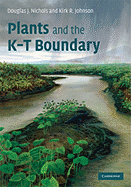 Publisher:
Cambridge University Press
decorated boards, 280 pp., $130.00
Sixty–five million years ago, a global catastrophe changed the course of life on Earth. The fauna of the planet remarkably was altered forever; gone were dinosaurs, ammonites, pterodactyls, and many other creatures. What happened to plants? This carefully organized and detailed book provides many answers to the fate of the world's flora at the end of the Cretaceous Period. The first section provides an overview entitled "Background," that is an excellent summary of our knowledge about the end of the Mesozoic Era. The largest section, labeled "Regional Case Studies," provides details from a variety of late Cretaceous plant fossil localities around the world. The last section, "Interpretations," provides the authors' perspectives on the data (hint: they support the impact hypothesis). An excellent work, this book should find its way into libraries with interests in paleontology, paleobotany, and evolution. The text is well illustrated and written to be accessible to most readers.
— Edward J. Valauskas, curator of rare books, Lenhardt Library, Chicago Botanic Garden