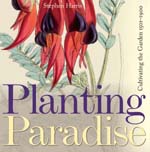 Publisher:
University of Oxford, 2011 (distributed by the University of Chicago Press)
Cloth, 142 pp., $50.00
This beautifully illustrated book examines the role of the garden in Britain, from the sixteenth to the twentieth centuries. In doing so, the whole world is involved as plants are discovered and brought into use for medicinal and commercial purposes. The discovery of seed development, Darwin's influence, the removal of mysticism, and the development of glass houses brought an understanding of how plants grow.
Of particular interest is the publication of a lithograph by Joseph Hooker in 1863 of Cinchona officinalis, the source of quinine, one of the prizes acquired from the New World. The extract from the Peruvian bark tree, reduced fever. It was not artificially synthesized until 1945. The book includes wonderful lithographs and reproductions of early rare manuscripts. Planting paradise is worthy of study.
— Adele Kleine, volunteer and Master Gardener, Chicago Botanic Garden and writer, 
Chicagoland Gardening magazine