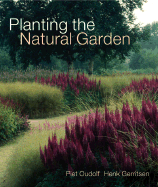 cloth, 144 p., $34.95
As an unabashed Piet Oudolf fan, I would enthusiastically encourage every gardener to buy any book bearing his name. Chicagoans have a particular stake, since he is one of the designers of our Millennium Park. The worldwide horticultural community has this generous Dutchman (and his wife Anja, who runs their nursery in Hummelo) to thank for vastly expanding both our plant palette and the way we see and appreciate previously undervalued plant features. The Oudolfs have not only cultivated garden plants that are tough and, as co-author Hank Gerritsen says, " ... look wild but do not behave in a wild manner," they have expanded our vision as well.
Like its companion (this publication is actually an updated version of Oudolf and Gerritsen's first book, originally published in Dutch in 1990 as Dream Plants for the Natural Garden), this volume continues to prod us to look beyond mere flower color, highlighting such qualities as texture or a plant's desirable traits after blooming. Rather than dividing by bloom color or bloom time, these plantsmen introduce specimen groups under evocative headings like "Airy, Exuberant and Gloomy." The aptly named plants lists, ranging from "Plants for Lazy Gardeners" to "Imperialistic Plants," are worth the price alone.
The illustrations in Planting the Natural Garden are improvements over those in the previous text. Not only does this collection demonstrate great combinations, it tends to show more of the plant' overall forms as opposed to focusing on their flowers. My only caution regards the number of tempting cultivars listed here that are neither hardy for our challenging climate nor easily located. The lack of reference to zone hardiness is also something I wish the authors had remedied. Yet for cutting-edge plants and how to use them, this classic book remains as vital today as when it first appeared.
— Julie Siegel, garden writer and library volunteer, Chicago Botanic Garden