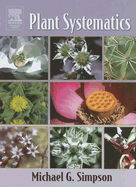 cloth, 590 p., $69.95
Michael Simpson's Plant Systematics is a comprehensive and up-to-date textbook on a complex and rapidly changing subject. However, Simpson presents the material in a reader-friendly style that makes potentially tedious or confusing concepts and facts accessible and understandable even for the non-taxonomist. The chapters are amply illustrated with charts, line drawings, and high-resolution color photographs. The author skillfully interweaves the many subdisciplines of plant science into this text. Simpson includes sections on plant structure and plant diversity, plant evolution, as well as phylogenetics and molecular systematics. Also included are sections on herbarium management, plant specimen collection, and plant nomenclature. The appendices contain plant descriptions, botanical illustrations, and a list of scientific journals in plant systematics.
This is not a book just for botanical scholars and graduate students, although either will find the book useful. Undergraduate students and anyone interested in plant taxonomy and nomenclature will find this book readable and informative. Plant Systematics is a book you will want to read and study as well as keep on your bookshelf for future reference.
— Marilyn K. Alaimo, garden writer and volunteer, Chicago Botanic Garden