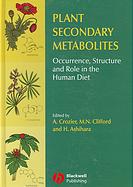 Decorated boards, 372 p., $199.99
This scholarly work, containing the worldwide research findings of more than twenty chemists, biochemists, and plant scientists, has as its central theme plant secondary metabolites. These are organic compounds that play minor roles in the life and growth processes. Previously ignored by researchers, these phytochemicals are the subject of growing scientific investigation because of more recently discovered key functions, such as protecting plants from herbivores and microbial infections. They have become noted for their potential as sources of new drugs and other products, as well as their protective dietary contributions to health in human nutrition.
The text discussion of Plant Secondary Metabolites: Occurrence, Structure and Role in the Human Diet covers the various major groups of secondary metabolites, as based on their biosynthetic origins, and illustrates how genetic engineering can be employed beneficially. This book is recommended for researchers and graduate students, but interested individuals may find valuable nuggets of information among the essays (for example, the total antioxidant capacity of red wine grapes, on p. 249).
— Marilyn K. Alaimo, garden writer and volunteer, Chicago Botanic Garden