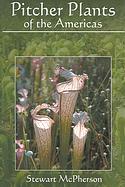 Publisher:
McDonald & Woodward Publishing
Paper, 320 pp., $34.95
One of the most intriguing plants to both children and adults, pitcher plants have adapted to inhospitable environments by unique means. Their modified leaves form hollows that trap water, allowing these plants to catch and digest animal predators, providing essential nutrients to the plants. Considered the most beautiful of carnivorous plants, pitcher plants are the center of this comprehensive, systematic scientific study of the five genera, native to America, by British geographer Steward McPherson, a noted authority on the subject. After discussions of taxonomy and groupings, the author examines individual genera and concludes with current conservation of these plants. Along with detailed illustrations, brilliant photography enhances the text.
— Marilyn K. Alaimo, garden writer and volunteer, Chicago Botanic Garden