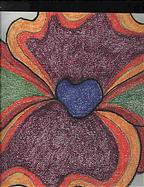 Publisher:
Two volumes. Washington, D.C.: Dumbarton Oaks Research Library and Collection (distributed by Harvard University Press)
paper, 110 pp. & 160 pp., $45.00
An early minimalist painter, Patricia Johanson received a request from House & Garden magazine in the late 1960s that would challenge her artistic skills, leading her into another direction for her endeavors. She received a commission to prepare garden plans that would reflect her modernity. With a discerning eye, author Xin Wu interprets Johanson's work in a series of essays that probe the dimensions of 146 designs or sketches. The sketches are grouped into seven themes: the line garden; vanishing point garden; artificial garden; illusory garden; water garden; design for space, time, and motion; and design for cities. A sampling of titles of her images include "Garden of Cracks & Tracks," "Air," "Stars & Fireflies," and "Water — Gathering Sculptures." Johanson's early experimental expressions of art applied to the landscape bear little reference to the accepted doctrine of "form follows function" in landscape design. In her conclusion, the author traces Johanson's ideological path from "an idealistic to a pragmatic point of view." As for the outcome of this project, Johanson's designs were not accepted for publication in House & Garden and were never executed as originally proposed.
— Marilyn K. Alaimo, garden writer and volunteer, Chicago Botanic Garden