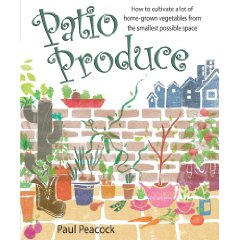 Publisher:
Spring Hill (imprint of How To Books, Ltd.)
paper, 156 pp., $22.00
British garden writer Paul Peacock is an enthusiastic promoter of self-sufficiency through gardening. No matter what size the available outdoor space, he contends that the reader can grow fresh vegetables and fruits for the table. He provides directions to the different methods of plant culture on the most limited sites, noting the differences between sowing directly into the soil or into containers. He supplies information on maintenance issues; lists the necessary gardening tools; gives tips on planning the gardener's calendar; and last, reviews how to grow different vegetables, fruits, and herbs on the patio. Although the items mentioned in his listing of favorite varieties may not be readily available, this is a very useful guide for those who are keen to garden productively.
— Marilyn K. Alaimo, garden writer and volunteer, Chicago Botanic Garden