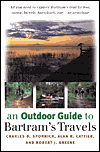 Publisher:
University of Georgia Press,
paper, 405 p., $19.95
Readers journey through time and space in this guide to the travels of America's first naturalist more than two centuries ago. William Bartram, born in 1739, was the son of John Bartram, appointed by King George III as the royal botanist for the North American colonies. The younger Bartram's adventures would eventually lead him through parts of North and South Carolina, Georgia and Florida during the last half of the 18th century. When published in the 18th century, the story of Bartram's expeditions to a landscape few had ever seen generated great excitement, thanks to colorful descriptions of the flora, fauna, culture and scenery. Although his report was first derided as less than scientific and too romantic in content by contemporaries, readers will find the landscape Bartram studied and the people he encountered engagingly captured in this new descriptive pilgrimage to the region, based on his five trips to the Southeast.
Although Bartram had accompanied his father on seed and plant collection exploration previously, his initial field trip as a naturalist to coastal South Carolina began with a two-day stormy ocean voyage from Philadelphia to Charleston, a city well known for its beautiful architecture and gardens. The reader becomes acquainted with the community's inhabitants in Bartram's time through a walking tour of that city's historic sites and the homes familiar to him as a guest. The reference source then provides a precisely detailed driving tour of the region and leads the reader over historic trails for biking, hiking, horseback riding and canoeing, rating these by their individual degree of difficulty and hazards that might be encountered by a traveler. It contains precise instructions on when and how to visit the off- shore islands where the naturalist was awed by the great ocean waves that molded the topography. Its excellent maps and black-and-white photographs illustrate the sites in the text, but the contents do not attempt to convey Bartram's impressions.
What sets this book above other travel publications is the ability of the authors to span time so effortlessly. They relate in general terms the environmental conditions that formed the land, tell of the people who lived there when the naturalist visited the region, and summarize how the environment has changed during the last two centuries. One would wish that there were similar informative publications elsewhere. Highly recommended.
— Marilyn K. Alaimo, garden writer and volunteer, Chicago Botanic Garden