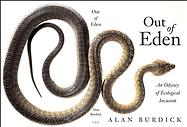 Publisher:
Farrar, Straus and Giroux
hardcover, 324 p., $25.00
Curious about the dramatic ecological changes recorded on the Pacific island of Guam and on the Hawaiian archipelago, journalist Alan Burdick traveled to these sites to discover the impact that the introduction of a non-indigenous species, the brown tree snake, had on these habitats. His goal was to discover how this alien species was affecting the natural environment of these isolated islands. As his curiosity about challenges to other habitats increased, he journeyed on to investigate the causes of these changing environments. He met "invasion biologists" who helped to answer his scientific inquiries about nature. He tells of the many unsung heroes who labor to understand these alien species and control their significant harm. A recent report indicated that the estimated financial damage to the United States from these invaders alone is $138 billion annually.
This fascinating book, a travel narrative, tells how the author's attitudes about alien invaders have evolved over time from fear for the survival of native species to an appreciation of the dynamics of ecological evolution. He discovered the important role mankind plays as a carrier of invasive species. Readers will gain a greater understanding of nature and the responsibility of each person as a steward of the planet.
— Marilyn K. Alaimo, garden writer and volunteer, Chicago Botanic Garden