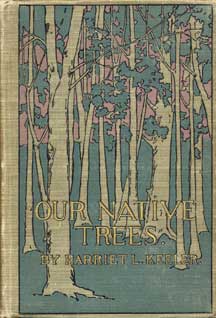 Publisher:
Kent State University Press
paper, 533 p., $22.95
An educator and administrator in the Cleveland, Ohio, public school system from 1871 to 1908, Harriet Keeler was a dedicated amateur botanist who found joy in communicating her love of plants to American readers. Her organizational capabilities, erudite knowledge of literature and language, and ability to converse at a level that would capture her readers' interest made her volume on native trees a popular guide at the turn of the twentieth century, and a pleasure to read today.
Her descriptive botanical information was based on the work of scientific authorities at the time; she duly credited their assistance and knowledge in identifying indigenous trees. Readers will likely cherish the publication more for her critical commentaries, her literary allusions, and the folklore she recalls. Keeler's work also includes the individual common names for trees, where they were used and why. Tree–lovers will find her stories enjoyable and descriptions entrancing as for example, she paints in words the vision of "the hazy, misty cloud of bursting buds of the June Berry." Her observations on plant habit under varying environmental conditions reflect her intensive study of nature.
Intrigued by the author's ability to produce a publication that is essentially timeless, readers will appreciate the brief biography of Keeler, written by Cleveland historian Carol Poh Miller. Based on the limited information Miller was able to gather, Keeler's life story is somewhat typical of the legion of women who chose teaching as a lifetime career during this period; it reflected a generosity of spirit and self–sacrifice for the betterment of society. Keeler became concerned with women's suffrage in later years and as a distinguished author and respected citizen, who was active in civic affairs, wrote on its behalf.
Keeler's book is a valuable link to the past. As contemporary ethnobotanists scramble to discover the uses of plants by different cultures, Keeler's guide provides precious clues in her commentaries on America's native trees.
— Marilyn K. Alaimo, garden writer and volunteer, Chicago Botanic Garden