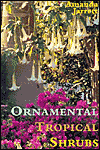 cloth, 167 p., $24.95
Professionals and amateurs alike will find this encyclopedia of 83 tropical and subtropical ornamental shrubs inspirational for designing gardens in zones 7 to 10. Easy to use, with stunning color photographs,Ornamental Tropical Shrubs lists the plants in alphabetical order by scientific name followed by common name.
With each entry readers will find information on the plant's country of origin, drought and sand tolerance, suitable soils, preferred sun exposure, mature size and form, flowers, fruit, problems and uses. There are brief remarks on fragrance, invasive properties, planting considerations, species, hybrids, flower color and foliage color. If a plant is poisonous, author Amanda Jarrett explains which specific parts of the plant to avoid — helpful advice indeed if children and pets are about.
Many uses for these plants are considered, such as accent, bank cover, containers and others. Of special interest to gardeners in zone 5 is the section on containers; some of these plants can be grown in the Chicago area and brought indoors during the winter. Rounding out this book is information on the placement of plants for beauty and care. Jarrett's work is a must for gardeners living in zones 10 and 11, and for other gardeners who visit those zones for part of the year.
— Phyllis Mohler, volunteer and master gardener, Chicago Botanic Garden