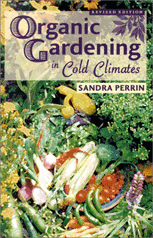 paper, 142 p., $12
This book, Organic Gardening in Cold Climates, argues for the creation of microclimates and microenvironments to extend the growing season beyond the limited frost-free days found in traditionally cold areas. In addition to the familiar process of starting seeds indoors, author Sandra Perrin, a Montana gardener, introduces the use of hot beds, floating row covers, tunnels and other ingenious approaches to lengthening the growing season. Perrin also includes information about plant varieties likely to succeed in colder climates, so that some greens are available even in December and January. Perrin advises also using seeds from companies knowledgeable about the requirements for colder climes.
Besides the special focus on cold weather, the author presents easily understood concepts about organic gardening and vegetable seed gathering and drying, as well as a section on herb growth and preservation. She also discusses inventive approaches to composting and shares ideas about turning a lawn into a garden.
Finally, Perrin provides some excellent seed sources, including sources for French, Italian and Asian vegetables, as well as heirloom varieties. She also lists helpful periodicals, books and garden suppliers.
— Mary Louise Doherty, library volunteer, Chicago Botanic Garden