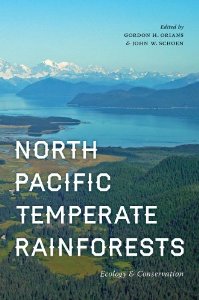 Publisher:
University of Washington Press
Cloth, 383 pp., $60.00

Editors Gordon Orians and John Schoen bring to the readers' attention the importance of the North Pacific temperate rainforest, which stretches from southern Alaska to northern California. They have collected a series of essays by scientists examining the unusual ecological conditions that create these forests. They point out the need to fully assess various factors that demand consideration, including insular climate change and management, natural disturbance patterns, uses of the natural resources, short- and long-term effects of timber harvesting, concepts of conservation, evaluation of the protection of undeveloped watersheds, and variable retention harvesting. They conclude that communities must work together to achieve an effective plan for proper conservation of these important ecosystems.
- Marilyn K. Alaimo, garden writer and volunteer, Chicago Botanic Garden.