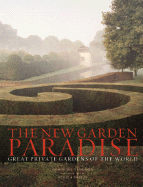 cloth, 463 p., $59.95
This book is an exclusive look at the best private gardens in the world, created by some of the most accomplished landscape architects and garden designers of our time. Organized into seven distinct styles, each section begins with an overview that provides both the historical context and contemporary influences behind each of the carefully chosen examples. Dominique Browning, longtime editor-in-chief of House and Garden Magazine, is the ideal host for this garden tour.
The gardens featured in this work are largely European and American, perhaps reflecting the locations of personal wealth that makes these private oases possible. Interestingly, the gardens in The New Modernism section are all located in California.
While exquisite photographs in this book provide plenty of excuses for browsing, it is the accompanying text that elevates it to a must-read for professionals and serious amateurs seeking insights and knowledge from the best to inspire their own expressions of paradise.
— Denise Corkery, master gardener, Chicago Botanic Garden