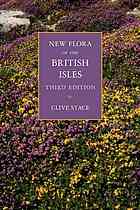 Publisher:
Cambridge University Press
flexible decorated covers, 1,232 pp., $90.00
Considered the standard work on the subject since it first appeared, this comprehensive volume by Britain's prominent authority on flora has been critically updated with new research and enhanced illustrations. As author Clive Stace points out, this edition includes thorough revision of classification and nomenclature, as well as including 160 additional species, both native and alien. He adds, "For the first time in a flora of this region, [it includes] the incorporation of the new molecular system of classification (APG III) primarily at family and genus level." As an aid to readers, the author includes information on how to use the book, such as explanations of signs and abbreviations before the extensive descriptions of species. Despite the completeness of this volume and its sheer mass, it is suitable for a botanically inclined backpacker to use in the field.
— Marilyn K. Alaimo, garden writer and volunteer, Chicago Botanic Garden