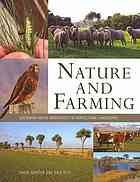 Paper, 294 pp., $69.95.
 
This book explains why it is important to sustain native plants and animals in farmland. It outlines key issues in developing and implementing practical approaches to safeguard biodiversity in rural areas. The book considers a wide range of ecological and agricultural issues that determine biodiversity. Thanks to well-written and detailed text with appropriate illustrations based on specific case studies, issues, and dangers in allowing farmlands to go unprotected, the authors make an excellent argument for increased attention to biodiversity. Indeed, Nature and Farming is a comprehensive overview of the subject.
- Adele Kleine, volunteer, Chicago Botanic Garden.