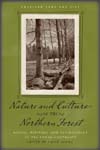 Paper, 288 pp., $29.95
This group of essays is inspired by the complex interaction of nature and cultural expression affecting the complex forested area of rural New York and New England. The editor's introduction provides a historical context for the area. The text itself is divided into four broad themes. "Encounters" includes essays about the flora and fauna of the region. "Teaching and Learning" includes essays on the intellectual influence of the area. "Rethinking Place" treats literary and cultural developments. Finally, "Nature as a Commodity" examines the intertwining historical and commercial influences in the Northeast.
Each essay is a thought–provoking story, exploring diverse relationships of place, work, and community. Altogether, this volume provides much food for thought about this enchanting part of the United States.
— Elaine Juhl, master gardener and volunteer, Chicago Botanic Garden