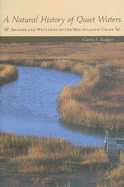 Publisher:
University of Virginia Press
cloth, 143 pp., $22.95
A native of the region, author Curtis Badger reflects on the value of the ecosystems found in a swamp and wetland. These lowland places were considered worthless pieces of property too costly, if not impossible, to drain for farming. Yet, in recent times, environmentalists such as Badger have appealed to the public to protect not just significant wetlands under federal ownership, but also vulnerable bogs and swamps across the landscape that provide homes to so many unique creatures. He points out that swamps "play a vital role" in flood control and water quality, and that these forested wildernesses are a source of life for an amazing diversity of plants and animals. He takes the reader on an armchair journey through several wetlands in the region, making observations on the quality of life within them and relating intriguing stories of local people and visitors who came to know them.
— Marilyn K. Alaimo, garden writer and volunteer, Chicago Botanic Garden