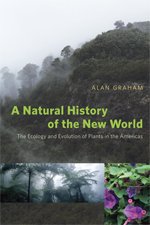 Publisher:
University of Chicago Press
paper, 192 pp., $19.95
Summarizing 500 years of research on the natural history of the New World is the ambitious aim of this book by Alan Graham, a leading scholar in the field of botany and geology. In this work, Graham examines the flora, using vegetation as a key to understanding evolutionary changes. Heavily referencing the work of many scholars, the text is quite accessible with much detail on the latest discoveries. Graham is to be commended for a monumental effort.
— Marilyn K. Alaimo, garden writer and volunteer, Chicago Botanic Garden