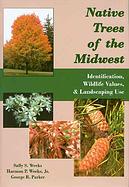 Hardcover, 325 p., $49.95
In this introduction to the native trees of Indiana and surrounding states, the authors (all educators in forestry at Purdue University) have centered their study on approximately one hundred species. The tree habitats range from the northern Great Lakes to the mid-south and from Pennsylvania westward as far as Nebraska. The text, divided into color-coded sections, includes updated botanical nomenclature, and trees are classified as either conifers or hardwoods. Conifers are divided into evergreen and deciduous sections, and hardwoods are separated by leaf form and branching pattern. Clear color images of leaf, bark, flower, cone, fruit, and/or seeds enhance the individual detailed descriptions. Individual profiles include information on size (height but surprisingly not width), habitat, use by wildlife, landscape potential, pests and diseases, quick identification tips, information on similar species, and a range map, showing distribution of native trees. Supplementary material includes helpful keys to different genera, and there is a listing of introduced species in the Midwest.
Destined to become a classic reference, this excellent guide is directed to students and all those interested in learning about trees in the forest community.
— Marilyn K. Alaimo, garden writer and volunteer, Chicago Botanic Garden