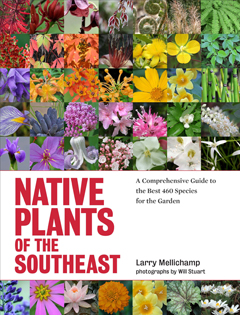 Cloth, 376 pp., $39.95.

This is a comprehensive guide to 460 species of native plants in the Southeast United States for the home garden, including trees, shrubs, wildflowers, grasses, and ferns. Mellichamp includes practical cultivation tips, descriptions of plants to attract wildlife, plants for difficult locations in a garden, and hundreds of beautiful photographs by Will Stuart.

Mellichamp is the director of the University of North Carolina at Charlotte Botanical Gardens and author of many books and papers on the plants of the Southeast. He brings his expertise to this work in assisting the reader to make well-informed plant choices. Each plants is described by habitat, range, light, soil, availability, and ease of cultivation. Plants are rated from "useful" to "outstanding". A bibliography and index complete this important book. - Elaine Juhl, volunteer, Chicago Botanic Garden.