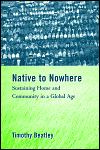 paper, 393 p., $30.00
Architect Timothy Beatley extols the value of a sense of place in today's society versus the sameness that can occur in locales trending toward globalization and urban sprawl. He presents many valid arguments for keeping traditional values, heritage, urbanscapes, and natural environments in order to enrich society and a particular community.
The author, who has traveled widely, cites examples of communities that have successfully brought a sense of place to their landscapes through careful planning and design. Not the least of which are those towns and cities that have taken notable steps in creating energy efficient communities.
Educators, architects, community planners, and interested citizens will find the text a source of information, containing strategies with many innovative ideas in sustainable urban design.
— Marilyn K. Alaimo, garden writer and volunteer, Chicago Botanic Garden