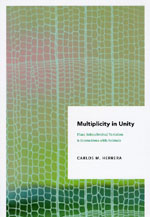 Publisher:
University of Chicago Press
Paper, 437 pp., $40.00
Spanish evolutionary ecologist Carlos Herrera examines a challenging study. He explains the diversity of potential changes in the structure of parts of plants and how these variations affect their interactions with animals, including both pollinators and consumers. This scholarly monograph, based on his ground-breaking research, includes references to both published and unpublished works of others. It will be of interest to students and researchers in a variety of biological disciplines.
— Marilyn K. Alaimo, garden writer and volunteer, Chicago Botanic Garden