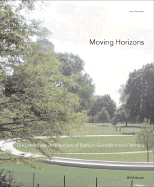 hardcover, 207 p., $87.95
Academics, professionals, students of landscape architecture, as well as readers with interest in this field, have the opportunity to observe the vigorous leadership of landscape architect Kathryn Gustafson. The book examines the landscape design planning process by teams of the three major firms under her leadership. In this compilation of the professional activities of Gustafson and her partners, author Jane Amidon has organized their body of work into five categories. She defines each, using models, drawings, and photographs for illustrations. Before any thought is given to sequencing of open space or plantings, the design partners' first priority in dealing with a site is to shape the broad landscape into a sculptural form. The projects are wide-ranging in purpose and size, spanning nearly three decades of work. They include private gardens, large parks, the campuses of business headquarters, museum entries, and civic centers for their international clientele. The firm has recently been involved in the development of two sites in downtown Chicago. These are the design of the Lurie Garden in Millennium Park and the courtyard of the new North Wing of the Art Institute.
Amidon has done a masterful job in this history of the activities of one of the world's most prominent women landscape architects. It is apparent that Gustafson has brilliantly built this teamwork by sharing recognition with her co-workers.
— Marilyn K. Alaimo, garden writer and volunteer, Chicago Botanic Garden