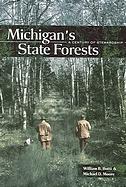 Publisher:
Michigan State University Press
Paper, 201 p., $29.95
Authors William Botti and Michael Moore point out that compared with the extensive woodlands of Michigan today, in 1903 "the state had practically no forestland" and no single governmental entity was responsible for their management. This work by eminent professionals in the field of forestry and natural resources traces the development of Michigan's state forest system. Awakening to the need for preservation of this natural resource, conservationists first sought legislation in 1888 that would curtail the wanton destruction of forestlands, but it was not until 1903 that the Michigan legislature agreed to a system of publicly owned forests. During the following decades, management of the forest system reflected changing public opinion in its policies, eventually leading to successful reforestation and the promotion of forest lands for recreational activities. Despite the fulfillment of the visions of the early leaders in conservation, the authors conclude the text by raising concerns about the future of the forestlands.
— Marilyn K. Alaimo, garden writer and volunteer, Chicago Botanic Garden