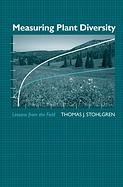 Decorated board, 390 p., $64.50
In this enlightening volume, Measuring Plant Diversity: Lessons from the Field, author Thomas Stohlgren urges fellow plant scientists to consider more carefully the mapping of rare and endangered native species in order to have greater accuracy in ecological experiments. He emphasizes the need for better assessment as more and more species become threatened by invading exotic plants and disasters to habitat. After reviewing the history of plant diversity studies, the author discusses the different approaches to sampling species. These methods are based on his extensive research in the field.
Stohlgren tackles several issues that regularly arise in sampling procedures, with the goal of providing a framework for studies by future scientists. The text is heavily illustrated with tables, photographs, and other relevant data on the measurement of plant species. This book is an excellent introduction to field sampling for novice plant ecologists.
— Marilyn K. Alaimo, garden writer and volunteer, Chicago Botanic Garden