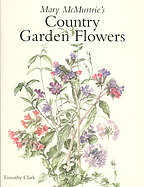 Publisher:
Garden Art Press (distributed in U.S. by ACC Distribution, New York)
cloth, 191 pp., $55.00
The exquisite watercolor drawings of an accomplished botanical artist, Mary McMurtrie, fill the pages of this retrospective of the life and work of this dedicated collector and grower of precious flora. Born in Scotland in 1902, she died at age 101. During her lifetime, she became an ardent advocate for saving the historic garden plants of Britain. Author Timothy Clark recalls in the narrative the influences on her career, her gardening friends, her restoration of an historic garden, and her favorite plants. His literary style is reminiscent of a cozy chat with a gardening friend as he tells of the heritage of plants and how to grow the rare beauties featured on the pages of this book.
— Marilyn K. Alaimo, garden writer and volunteer, Chicago Botanic Garden