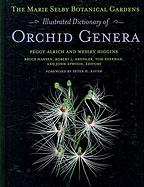 Publisher:
Cornell University Press, published in association with the Selby Botanical Gardens Press (Sarasota, Fla.)
decorated boards, 481 pp., $49.95
A tremendous undertaking for its sheer volume of material, this lexicon of hundreds of genera and thousands of species is the most comprehensive, extensively illustrated reference to date for the orchid fancier. Introductory material includes discussions of the taxonomy of Orchidaceae and characteristic parts, followed by a guide to the classification system. The extensive directory of botanical descriptions provides information on nomenclature, geographic range, and a brief summary of flower parts for each entry. In recognition of the particular instability of nomenclature for such a complex family of plants, the editors use a color-coded system to denote the status of a plant's name. Attractive diminutive floral illustrations accompany currently accepted species to assist the reader in plant identification. Supplementary material contains a directory of taxonomists cited in the dictionary, the rules of nomenclature, and a general glossary.
— Marilyn K. Alaimo, garden writer and volunteer, Chicago Botanic Garden