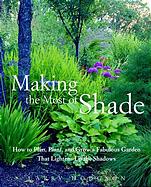 paper, 408 p., $22.95
Author Larry Hodgson, a strong enthusiast of the shade garden, expertly reports on the many attractive plants that may be grown there in this well-organized manual. Before launching into a listing of suitable plants, he dwells on the differences that varying sunlight conditions create in such an environment, and demonstrates how the gardener can best exploit a shady site through careful planning, planting, plant selection, and maintenance.
Brilliantly illustrated in full color throughout the work, the bulk of the text contains a directory of his favorite plants for shade gardens. The individual description contains a brief plant profile, as well as growing tips, problem solving, and recommended species. Hodgson's literary style is to be admired. He shares his gardening knowledge and expert advice in a very personal way, as one gardening friend to another. This comprehensive volume is highly recommended for both experienced and novice gardeners.
— Marilyn K. Alaimo, garden writer and volunteer, Chicago Botanic Garden