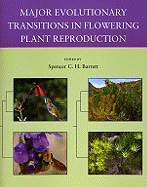 Publisher:
University of Chicago Press
paper, 209 pp., $30.00
Changes in traits in organisms are considered significant when they become persistent, ultimately becoming permanent features that affect lineage. Biologist Spencer Barrett relates the importance of such transitions in an introduction to a collection of essays by fellow scientists. Their essays report on studies of flowers and pollination; mating patterns and gender strategies; and other changes in reproduction. On the cutting edge of research in biology, this academic publication has a special focus on particularly meaningful evolutionary transitions in reproductive character of flowering plants and the consequences of these alterations.
— Marilyn K. Alaimo, garden writer and volunteer, Chicago Botanic Garden