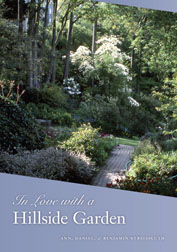 Publisher:
University of Washington Press
paper, 118 pp., $22.50
Located on a steep hillside in Seattle, there is an amazing woodland garden, developed by its dedicated owners and their son; it reflects their devotion to creating an example of nature's beauty, replacing wild undergrowth and challenging soils on a precipitous site in the urban setting. This book tells of the tremendous work involved in making the garden that evolved. The landscape now contains drifts of perennials and flowering shrubs, food and ornamental plants, views of the city, and decorative plantings along a public stairway--a pathway for Seattle's citizens to enjoy. Well illustrated with photos reflecting the evolution of the site, the narrative contains the authors' thoughts on their goals, their particular interests in plantings, the relationship of the house to the garden, the education in site maintenance they gave to their son, and the anticipated future of the site.
— Marilyn K. Alaimo, garden writer and volunteer, Chicago Botanic Garden