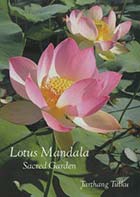 paper, 289 pp., $30.00.
Magnificent trees and gardens combined with inspiring art and architecture provide a path to understanding the tenets of Buddhist philosophy. The author, Tarthang Tulku, is one of the few remaining Buddhist lamas who completed a formal education in Tibet. He has worked and lived in America since 1969, sharing his knowledge of plants and ancient poetic ways with Americans. Photographs of gardens and sacred structures encourage the visitor to embrace the shining beauty of eternity as reflected in this work.
— Marilyn K. Alaimo, garden writer and volunteer, Chicago Botanic Garden.