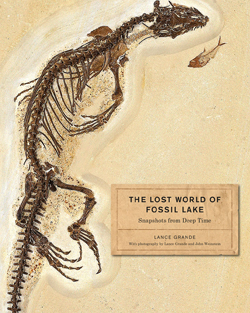 Publisher:
University of Chicago Press
Cloth, 425 pp., $45.00.

The scientific importance and rich beauty of the unique fossils assembled in an ancient lake bed drew paleontologist Lance Grande to this special locality. Some 52 million years ago, the place known as Fossil Lake was surrounded by lush vegetation and plentiful wildlife. Today, the landscape contains a ghost town called Fossil, Wyoming, with a sparse population scattered around some of the most important freshwater fossil localities in the world. Grande has compiled a comprehensive catalog of important discoveries, calling them snapshots of deep time. He relates in elegant prose and colored portraits these fossils in a book accessible to any curious reader. Celebrating this magnificent mine of information, Grande writes with a freshness that is fascinating for all ages. —Marilyn K. Alaimo, garden writer and volunteer, Chicago Botanic Garden.